Beautiful Calligraphy for your Wedding Day
I offer a wide range of services that will help you take care of the finer details of your day.

From complimenting your invitations and envelopes with your guest names inscribed beautifully with the artistic craft of calligraphy to impressing your guests with matching escort cards, menus, place cards, and table numbers or names.

As an experienced calligrapher, I can also create your custom wedding stationery suite, reflecting your personal style and taste.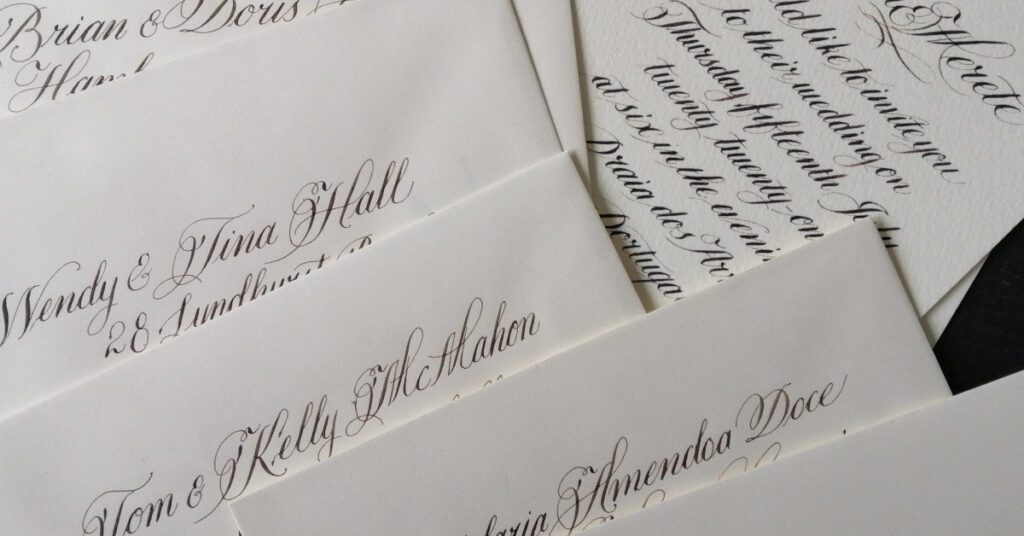 There are a few steps in the process of obtaining your wedding calligraphy. These tips will help ensure that your calligraphy runs smoothly. I recommend that you contact me well in advance of your date or as soon as you decide that you are using calligraphy. It's important to remember that your invitations are not just words; they are memories in the making and a glimpse into the future.
Allow enough time for your stationery to be hand-inscribed.
Every wedding is different. Depending on the number of guests you have, this will dictate the amount of time it will take me to handwrite your stationery. Allow 7–10 days as a minimum.

Type your guest names and addresses clearly.

Double and triple-check the guest details, for example, spelling and postal addresses. You will have an opportunity to change or amend the list again before I start inscribing.

Order enough stationery. A general rule of thumb is that 15–20% extra stationery is ordered. Every piece is handwritten using a dip pen and ink. Ink splatters happen, as do mistakes.

Delivering your stationery to me. I use An Post Express Post. Guaranteed 24-hour delivery nationwide; track and trace service
Services: