SoulScribe Calligraphy is based in the beautiful county of Wexford, Ireland. Dedicated to the artistic craft of Calligraphy.
Hi, I'm Jagdeep Sahans, my friend's call me Jackie. And, I'm the scribe behind SoulScribe. A name that describes my love for this beautiful artistic craft.
Calligraphy has many uses….
From beautifully handwritten guest names on envelopes. Impressing your guests. The moment they receive your invite through the post.
To artwork that will transform a favourite poem or quote into a piece of art. For a memorable and loving gift. As well as, Awards, Certificates and at Events to say"Thank you" to your customers. Or, to boost the "WOW" factor of your launch.
Like the idea of having a favourite poem or song inscribed as a gift? Or, your guest names inscribed beautifully on your invites and envelopes for an upcoming event? I'm always happy to chat and explore ideas. Feel free to email or call 087 9887017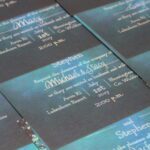 We were very lucky to be gifted with having our wedding invitations inscribed by Jagdeep, we have just received them back and are blown away… Read more "Special touch for our guests"
Helen Fayne