As a couple the day you get married will be one of the most significant events of your life together. The first impression your guests will have of your big day is when they receive your invitation through the post.
Wedding Calligraphy will look after the finer details of your day.
It will elegantly set the tone of your celebration or event from the moment your guests receive your invitation.
When it comes to your wedding day, your stationery suite will help to bring together your theme, carrying it through your whole day with gentle elegance. From your save-the-date and day invitations to your escort cards, seating plans, place cards and menus.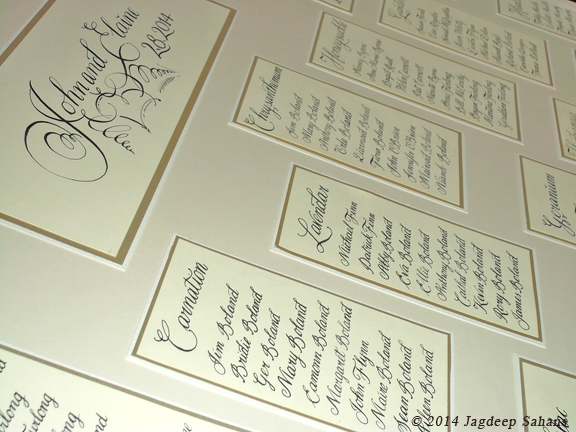 Start the morning of your wedding day with a beautifully handwritten love letter for your beloved. Beginning the day with gratitude and anticipation. Filled with expressions of your love. Romance fills the air. The excitement is building.
I provide an end-to-end Wedding Calligraphy Service from your save-the-date to Thank you cards. Offering a variety of script styles, and a broad spectrum of ink colours, sometimes I'll mix up an ink colour just for your wedding. 

Would like to have a talk about your requirements?
Get in touch via my contact form or phone at 087 9887017.
Enhancing Wedding Invitations
Jagdeep used her beautiful calligraphy skills to inscribe our wedding invitations. She has been outstanding to work with. She advised me on style and font and enhanced our wedding invitations wonderfully. The feedback from her work has been hugely positive and I am recommending her to everyone! Thank you so much Jagdeep!
Emma Nugent
Birthday Party Invitations
I contacted Jagdeep for a quote for my Dads 70th birthday invitations. Jagdeep spent so much time finding out about my Dad and what he loves. She wanted to be super sure that she incorporated his very essence on his invitation. I explained to her how much he loved Elvis and how his favourite song… Read more "Birthday Party Invitations"
Debbie Morone
I ordered place cards for
I ordered place cards for my wedding (April 2022) with Jagdeep and it was short notice! She did the cards beautifully and sent a picture to ask if I was happy prior to sending them, I was so happy with them, it brought a tear to my eye, they were perfect, packaged really well &… Read more "I ordered place cards for"
Fiona Jones
Deliver perfection
We had the pleasure of working with Jagdeep on number of events and were extremely pleased with her professionalism, commitment and of course amazing work. She worked day and night to deliver perfection on a tight deadline. I would be very happy to recommend Jagdeep and will continue to commission her work for future events. Tal… Read more "Deliver perfection"
Tal Green, Event Producer
Special touch for our guests
We were very lucky to be gifted with having our wedding invitations inscribed by Jagdeep, we have just received them back and are blown away with how beautiful they look. It was never something we would have thought to have done ourselves but having seen the results I would recommend the idea to any couples… Read more "Special touch for our guests"
Helen Fayne
Beautifully Scripted
Jagdeep, Thank you so much for the beautifully scripted place name cards you provided for my clients. Your work, as always, was stunning. And with such a short turnaround you were so good to keep me constantly updated with photos and delivery. A pleasure to work with you! Very much looking forward to recommending you… Read more "Beautifully Scripted"
Bláithín O' Reilly Murphy
Calligraphy for Weddings. From invitation to thank you
'From our initial consultation through to our wedding day and afterwards Jagdeep exceeded all our expectations. Initially we contacted Jagdeep for our invitation design and were so impressed by the proposed designs that we sought their talents for our table plans and for designing the cover of our wedding album. Jagdeep's creative talents ensures a unique and personal touch for your… Read more "Calligraphy for Weddings. From invitation to thank you"
Elaine Boland
Presentation certificates, designed and inscribed
"I met Jackie a number of years ago and needed a very quick turn around on 120 certificates. She did a magnificent job and I would highly recommend her for top quality calligraphy and great service combined"
Martin Dunphy
Excellent Calligraphy. Quick and efficient
Excellent Calligraphy. Quick and efficient service. The writing was exactly what we wanted. Thank you, Jackie
Elaine
Perfection every time
I cannot give Jackie enough praise! The work she has completed for me in the past has been of the highest standard and has greatly exceeded my expectations. Her work never ceases to amaze me, perfection every time. Both personally and professionally it has been a privilege for me to work with Jackie and with… Read more "Perfection every time"
Sinead Coleman
Lots of happy tears
I just wanted to say thank you so much for my proposal note. It is absolutely stunning. Lots and lots of happy tears when I opened it. It was a joy opening the wee parcel. Thank you for this…I will treasure it always
Hayley
an amazing job
What a talent and what a lovely lovely lady. I could not recommend Jagdeep enough. She did such an amazing job on our invites, we have received so many compliments and she completed them so quickly! We were so impressed. Jagdeep kept me updated sending me pictures on her progress and anything I asked was… Read more "an amazing job"
Anne O'Gorman

Do you have a question? Visit my FAQ page for the answers to the most frequently asked questions. Please feel free to contact me if you can't see the answer you are looking for.