As a couple the day you get married will be one of the most significant events of your life together. The first impression your guests will have of your big day is when they receive your invitation through the post.
Wedding Calligraphy will look after the finer details of your day.
It will elegantly set the tone of your celebration or event from the moment your guests receive your invitation.
When it comes to your wedding day, your stationery suite will help to bring together your theme, carrying it through your whole day with gentle elegance. From your save-the-date and day invitations to your escort cards, seating plans, place cards and menus.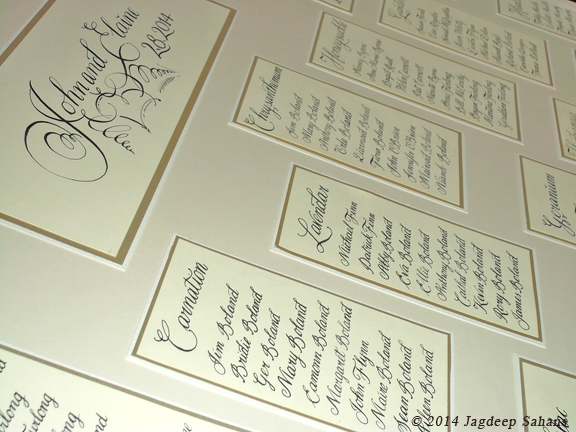 Start the morning of your wedding day with a beautifully handwritten love letter for your beloved. Beginning the day with gratitude and anticipation. Filled with expressions of your love. Romance fills the air. The excitement is building.
I provide an end-to-end Wedding Calligraphy Service from your save-the-date to Thank you cards. Offering a variety of script styles, and a broad spectrum of ink colours, sometimes I'll mix up an ink colour just for your wedding. 

Would like to have a talk about your requirements?
Get in touch via my contact form or phone at 087 9887017.
Birthday Party Invitations
I contacted Jagdeep for a quote for my Dads 70th birthday invitations. Jagdeep spent so much time finding out about my Dad and what he loves. She wanted to be super sure that she incorporated his very essence on his invitation. I explained to her how much he loved Elvis and how his favourite song… Read more "Birthday Party Invitations"
Debbie Morone

Do you have a question? Visit my FAQ page for the answers to the most frequently asked questions. Please feel free to contact me if you can't see the answer you are looking for.